Greek Islands with direct flights from London make for an easy escape to an idyllic destination. The capital location is home to four international airports and can see thousands of passengers arrive and depart daily. As it stands, London Heathrow currently sees, on average, 1,300 flights land and take off each day. This works out to be one every 45 seconds!
Table of Contents:
How Many Greek Islands Have Direct Flights from London?
There are 9 Greek islands which you can reach with direct flights from London. For each of these destinations, there is an option to fly from London Heathrow, London Gatwick, London Luton or London Stansted.
Crete
Corfu
Kefalonia
Kos
Mykonos
Rhodes
Santorini
Skiathos
Zakynthos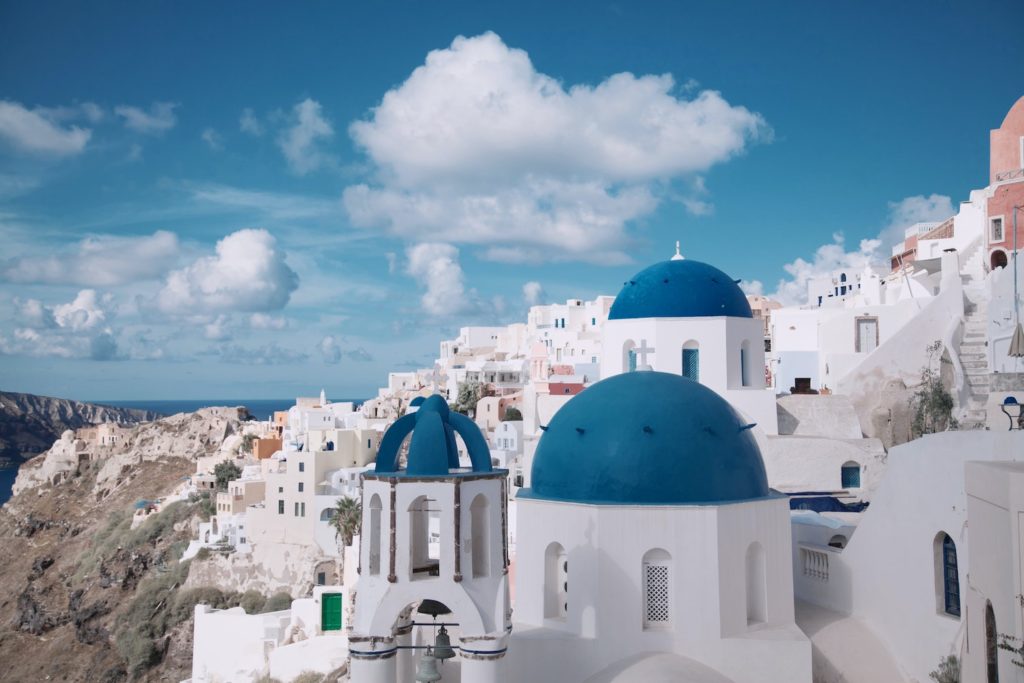 Which Greek Islands Have International Airports?
14 of the Greek islands have international airports which provide direct flights daily. During the summer months, direct flights to the islands are more accessible to come by, in comparison to the out of peak season period (October – May). This isn't to say you can not relax in a luxury Greek villa during the cooler months, you just may have to take a transfer flight from Athens first. If this is the case, there are many other European cities you can tie into your trip before visiting a Greek island. For example, Lufthansa airlines in Germany, are offering direct flights to 17 Greek locations in 2023! With this many options to reach the sandy beaches of Greece, it's no wonder this wanderlust country was named a top 10 holiday location for UK travellers in 2019.
Santorini
Mykonos
Corfu
Kefalonia
Lefkada
Zakynthos
Rhodes
Kos
Karpathos
Skiathos
Lesvos
Lemnos
Samos
Crete
How Long is a Direct Flight from London to Greece?
It takes between 3 hours and 31 minutes and 4 hours and 09 minutes to reach the Greek islands with a direct flight from London.
A breakdown of locations and the time it takes to reach them are:
Direct flights to Santorini 3h 57m
Direct flights to Rhodes 4h 09m
Direct flights to Corfu 3h 12m
Direct flights to Zante 3h 31m
Direct flights to Kos 3h 55m
Are Direct Flights Frequent from London to Greece?
Direct flights are frequent to the Greek islands during the summer months. The main operators for these direct flights are:
Out of peak season (Oct – May), you may find direct flights less frequent. But the islands can still be accessed by first landing in Athens (Airport code – ATH) and catching a transfer to the Greek island of your choice. Alternatively, why not make mainland Greece your holiday destination?
Flights or Ferry Transfers?
Given the choice, direct flying to the Greek islands is by far the easier option, but what about if you need to transfer? Let's compare the two options.
Flight Transfers
Catching a transfer flight to reach your desired destination can be the quicker alternative over a ferry, but it can depend on the island's location. All transfers, both flights and ferries, are likely to happen from the capital Athens. Geographically, if you are making your way to the Ionian islands, such as Corfu or Zakynthos, flying is your only option as there are no ferries from the port of Piraeus (Athens). Journeys to the Cycladic islands (Mykonos and Santorini) and the Dodecanese (Rhodes and Kos) ultimately depend on your travel preference, and less on your price point. Once you reach the idyllic island of your choice, be sure to have your dream holiday accommodation sorted. Greece can offer wonderful architecture and the sooner you can arrive by transfers, the sooner you can enjoy them!
Ferry Transfers
Although ferries are seen as the slower mode of transport, they can actually be a way to experience more sightseeing and culture before your final destination. The slower arrival adds an added benefit to your trip as you are able to see the unique views you won't see if in the air. Another benefit of ferries over flights is that Greek airports tend to be small and overcrowded in peak season, meaning you may spend a lot more time there waiting in queues.
A Passion for Travel
Virtual Wanderlust is all about showcasing the indulgent and luxurious travel experiences with a conscience. We hope you enjoyed the guide to Greek islands with direct flights from London and if you're interested in more, take a look at our guide to Greece, or these Italian islands. Make sure to follow us on Twitter, Instagram and Pinterest.