Choosing your holiday accommodation can set the tone for your whole vacation. Which is why knowing what's available to rent can create a unique experience for everyone to enjoy, no matter the age group. Discover our helpful guide to the 5 types of holiday accommodations you can visit to gain inspiration for your next adventure.
Table of Contents:
The 5 types of Holiday Accommodations
Hotels
Hotels are one of the most popular types of holiday accommodations as they can often suit a range of needs, no matter your destination. Located in all corners of the globe, you can rely on a hotel to be a comfortable spot to rest your head for the night. Depending on your requirements, this type of holiday accommodation can provide you with a range of facilities to make your stay relaxed and comfortable. The amenities you may be able to experience are:
A Restaurant
A Bar
A Spa
A Gym
Swimming pool
Office / meeting rooms
This isn't to say every single hotel you stay in will have these amenities, as you can find a range of hotel styles. More often than not, you can distinguish how luxurious your stay will be by the classification of the hotel.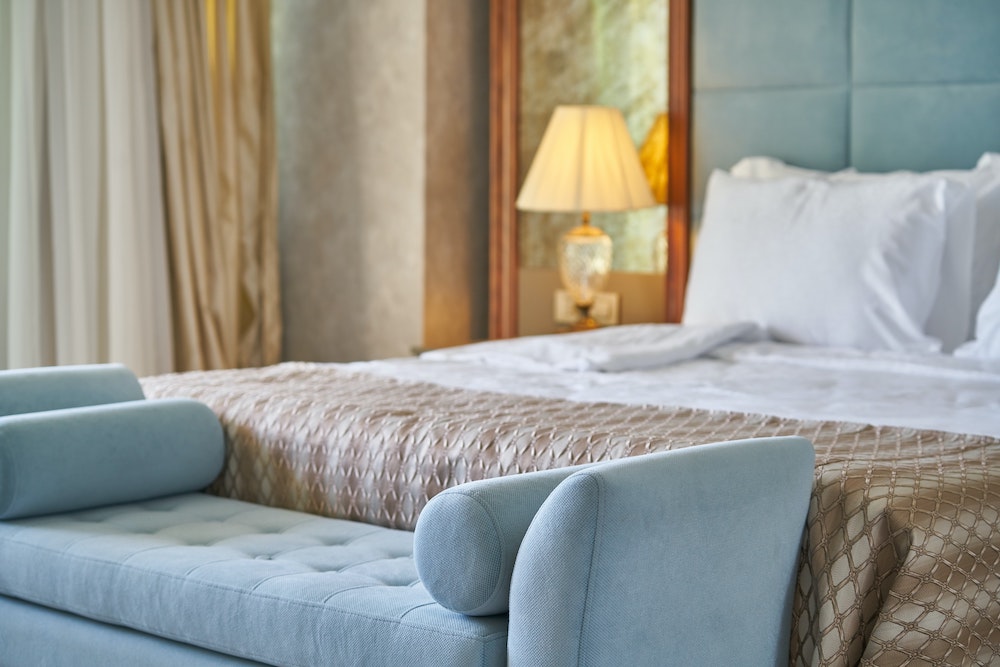 In Britain the classification system to a hotel is organised through:
The AA have been providing the star rating system, 1-5, since 1912 but developed the 'Common Quality Standards' in 2006 alongside the tourist boards. This star rating is an indication to guests on what they can expect from the hotel. To gain an idea of the standards, we have provided examples of what they categorise as a 1 star vs a 5 star hotel.
1 Star Hotel Accommodation:
The rooms will all have ensuites or private facilities.
The staff provide an 'informal yet competent service'.
There will be a designated eating area for breakfast daily and dinner most evenings.
5 Star Hotel Accommodation:
Guests can expect luxurious accommodation in their rooms and public areas.
Guests will be greeted upon their arrival to the hotel entrance.
High quality food menu and wine list will be available.
A range of facilities and multilingual services are available.
Overseas in Europe, there are 17 countries which have adopted a rating system by the name of 'Hotelstars'. The countries included within this list are: Austria, Greece, Germany, Netherlands, and Switzerland. This system mirrors the standards of the UK, but with some slight differences such as:
3 star hotels must provide laundry and ironing services.
4 star hotels need to provide bathrobes and slippers on demand to their guests.
5 star hotels are required to offer personal care products in individual bottles and create a personalised greeting for each guest in their room. This can be through fresh flowers or a gift left in the room before the guests arrival.
European countries that are not included within the 17 are France, Spain and Italy. Each of these countries have their own rating system away from the 'Hotelstars'. This being said, people do still tend to opt for a hotel when staying in these countries, as your travel provider can secure a deal for both your flights and your holiday accommodation.
If you are thinking about your next adventure and want to escape to somewhere hot from the UK, discover the Greek islands with direct flights from London.
In the United States, you may see their rating system categorised by 'diamonds'. These are awarded by the American Automobile Association. To be awarded a five-diamond rating, the hotel must provide the 'ultimate luxury' to each guest.
Holiday Rental Properties
The feeling a holiday rental property can bring is almost a home away from home. This can be a huge factor for people to be able to relax and enjoy the most from their time away. Traditionally, holiday rental properties come equipped for a self catering experience. The option to cook for yourself, can sometimes suit people more than having to stick to fixed eating times in a hotel or holiday resort. Holiday rental accommodations can also cater for a larger group, for less money, if you choose to holiday with friends and family.
Highlighting two types of rental accommodations for your holiday, we chose cottages and wooden cabins / lodges. Both of these can be the perfect property to relax in, especially if you are on the hunt for dog friendly holiday accommodations.
Holiday Cottages
Holiday cottages are typically found in the British countryside or in rural areas within the Irish Republic. They can be described as a small, quaint house, usually located off the beaten track, or in a village. Cottages can be the perfect holiday accommodation for those wanting to escape to a rural landscape and be off the grid. Traditional features of these types of properties include a thatched roof and a stone exterior. It is these small qualities that make staying in a holiday cottage feel like a picture perfect postcard.
Wooden Cabins / Lodges
Much like an English cottage, wooden cabins and lodges could almost be seen as the European or American version. Their history is often associated with these two territories as they are traditionally the style of homes the first settlers built when they found the land. You can stay in one of these holiday accommodations if you choose an outdoor adventure holiday in America, where you can trek some of the undiscovered national parks!
Villas
A villa holiday accommodation can provide you with privacy when choosing to vacation abroad in a sunny climate such as Italy or Greece. Italian holidays can be filled with great food, beautiful scenery and wonderful villas to rest in at night. The beauty of a luxury Greek villa will leave you wanting more thanks to their contemporary yet authentic feel! Typically, those who choose to stay in villas prefer to self cater and entertain themselves, rather than staying in an all inclusive resort.
These holiday accommodations can be found through travel agents, companies such as Airbnb or you may even have close friends and family who own their own places overseas! However you come to stay in a villa, you can often relax by a private pool in the bright sunshine, with a cold drink of choice!
Camping
Camping is a type of holiday accommodation which allows you to sleep under the stars and be at one with nature. It provides you with the opportunity to disconnect from technology and experience what your surroundings can offer you. It can also be a more sustainable type of holiday – especially if you come equipped with eco-friendly travel essentials! There can be many forms of camping, from building your own shelter or sleeping in tents, to more luxurious retreats such as glamping.
Glamping is a term used to describe 'glamorous camping'. The main difference you would find between glamping and traditional camping is that glamping can often have the following amenities:
Beds
Electricity
Indoor plumbing
These may differ to a traditional camping layout, where you may experience sleeping under the stars in a thin tent and sleeping bag. Glamping does not restrict you to just a tent. To be classed as glamping, you can stay in:
A shepherds hut
A bell tent
A geo-dome pod
Cabins & luxury lodges
Safari tents
Tree houses
Vintage vans & Airstream trailers
Yurts & Gers
Try glamping for yourself as your next holiday accommodation, when travelling to the likes of France, England or even the United States!
Holiday Resorts
Choosing a resort as your holiday accommodation means you can more or less have everything you may need at your fingertips! The layout style of a resort can differ between holliday types (beach holiday to winter ski holiday) but a fundamental thing you will find is that it encourages holiday makers to spend all their time in the resort's facilities. This means you don't have to explore the surrounding area if you don't want to. It is a perfect option if you are looking for an all-inclusive, sun holiday in Spain, as you will often have a large shared pool and shops which are within walking distance to your rooms. 
Chalets can be another form of resorts for those who love the adrenaline rush of the ski slopes. They can be located on their own, but more often than not they can be part of a ski village in France, Switzerland or any of the Alpine regions.
What attracts families to resorts, as their holiday accommodation, is the fact they can often have childcare facilities, or a range of activities which makes it fun for the kids. This option allows for the whole family to relax and enjoy the type of holiday they want to experience.
Floating Properties
A floating property may not always be at the front of your mind when thinking of holiday accommodations, but it can be a practical way to see more of your surroundings.
Floating properties can include boats, yachts and cruise ships which are big enough for you to sleep in. What makes these a popular choice for many is the fact you can travel to different destinations easily, while being able to relax and absorb the scenery. Typically, people may choose to discover the Greek islands by having a boat as their holiday accommodation, because they can easily hop between each island in a short amount of time.
The motion of being at sea might not be for everyone, but in many cases it can be a soothing way to relax and drift off to sleep at night. Treat yourself for your next holiday accommodation with the help of a floating property!
When you discover a new type of holiday accommodation, it can make your next adventure different and exciting. Both great qualities when exploring the world! We hope you learnt about a new style which you can stay in and explore while relaxing in your chosen holiday destination. To stay up to date with the latest posts from Virtual Wanderlust, you can follow us on Twitter, Instagram and Pinterest.